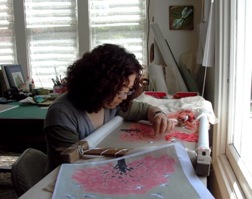 I have been doing embroidery since I was 10 years old. I was taught by my mother because I needed to help her on her own embroidery work.

I began to learn how to draw while I was doing embroidery. Soon, I was eager to learn art. After high school, I went to the University of Art in China to learn textile design, and later attended Kobe University in Japan to study Japanese Art. I received my Masters in Art Education from Kobe University.

My images have a sense of Japanese style blended with a Chinese embroidery technique. I do this first by painting an image on silk backing, then accenting the painting with silk embroidery over the image. The embroidery is very detailed and of high quality using very fine silk thread. It is typically dense and usually depicts people, animals, and village life.